• DJ • Music Producer • Sound Engineer • Multi Instrumentalist •
 
A truly great DJ understands
that it is their utmost dutY
to not just help Their
clients create an epic party,
but to SPEND THEIR LIVES DEDICATED
TO BEING ABLE TO TAKE their listeners
on an IRRESISTiBLY exciting
and inspirational, Next Level
sonic journey 🎧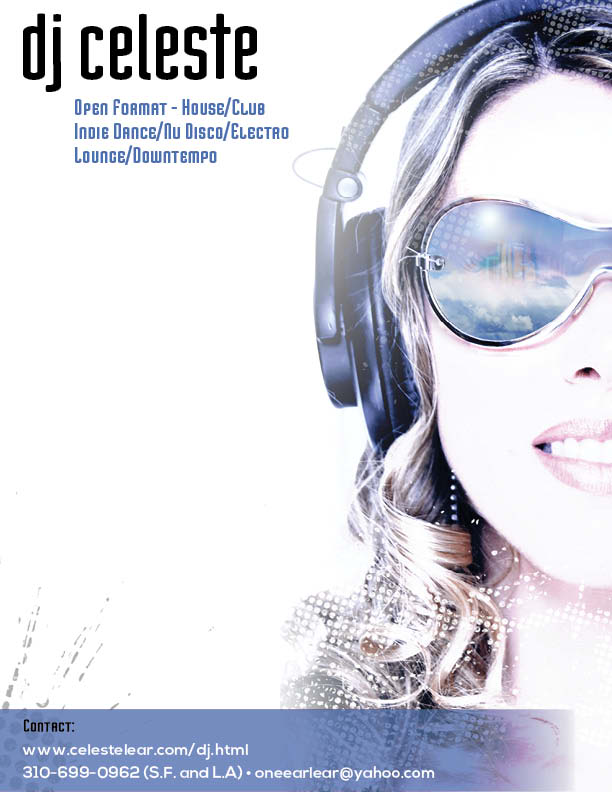 "DJ Celeste is one of our go to DJs for company events here iN San Francisco"
- Kai Augustine, Event Manager, The Gap

"We book our DJs based on their ability to get our 300-400 people events moving, and Celeste delivers EVERY TIME, she is a real dancer's DJ."
- Donna Carrol, founder, Ecstatic Dance
RECENT CLIENTS:
MOMA, SF
Google
Apple
The Gap & Banana Republic
ECSTATIC DANCE International
Virgin Hotels
W Hotels
Warner Bros.
Bacardi
RECENT VENUES & FESTIVALS:
Bottle Rock Festival, Napa, CA
Outside Lands Music Festival, S.F.
Love Boat Halloween, S.F.
Oracle PArk (Giant's Stadium!), S.F.
Serenity Festival
SkyBar, L.A.
Monarch, S.F.
Temple, S.F.
August Hall, S.F.
DJ & Live Instrumentalist Duos AVAILABLE:

DJ Celeste offers an array of supremely talented live musicians, from violinists, to jazz trumpet to PERCUSSIONISTS that come out perform over house music, electro, EDM, Pop/Top 40, downtempo or world Rhythm. She is also a skilled, trained percussionist and guitarist of 20+ years.
DJ Celeste playing Live Guitar over House Music at StarVibes Music Festival, NorCal
Celeste With Live Latin Percussion:
How many girls do you know that own their own 12,000watt $25,000 Sound Systems?